Interview With Char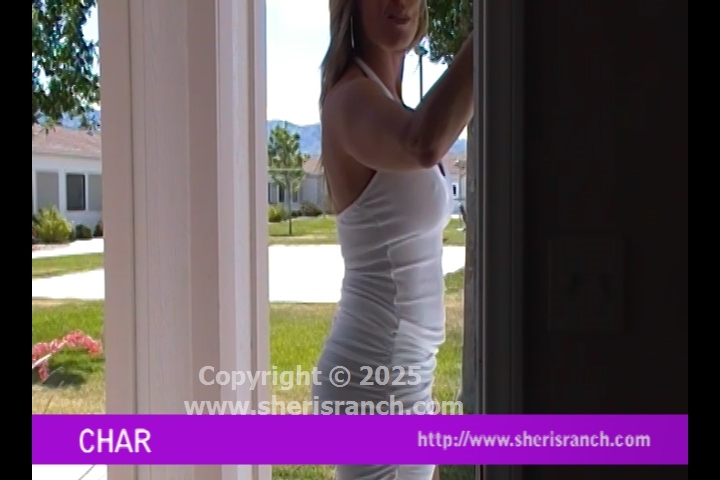 [ Click here to play ]
Video Transcript:


Char Interview Transcript (Video):

Char: Hi my name is Char. This is my first video bio here at Sheris. I'm excited about doing this at one of my favorite places at the ranch the Roman Bungalow.

Char: So here we are now at the side of the Roman Bungalow and this is my favorite. I like this room for a number of different reasons. Very plush comfortable luxurious place to come play in. When I come in here I feel like a princess. When I feel like a princess, I treat you like a king. There's all kinds of space to play around here. One of the reasons why I like this room it has its very plush carpeting, as you can see, I do like to use all my space!

Interviewer: Char what do you for fun, what are your hobbies?

Char: Well you can see I love to workout. When i'm not here though, i'm a pretty simple girl. I like to hang out with the girlfriends. Maybe have a glass of wine, like to garden, like to take dogs for a walk, horseback riding. Yea nothing real fancy. Just like to enjoy life.

Interviewer: That sounds good.

Interviewer: Do you like to give oral sex?

Char: I love to give oral sex. I actually love to receive as well. I'm actually working on this technique, but I probably shouldn't be talking about right here. But if you want to come in I can show you!!!

Interviewer: Good to know, good to know, all right.

Interviewer: Char whats your favorite comfort food?

Char: Mmm Thai, I love Thai food pad tofu. Spicy, comforting just really yummy.

Interviewer: Sounds good

Interviewer: Char does anyone ever send you presents?

Char: Oh they do quite often and I love it. Makes me feel really special. I get all kinds of things: flowers, lingerie. Speaking of lingerie, I need to show you something that was sent to me recently. Have you ever seen one of these before?

Interviewer: Are those pearls?

Char: It's a pearl thong.

Interviewer: Oh, pearl thong, very nice.

Char: I had actually a couple that came in to see me recently, that brought me some really really special martini glasses. Which raises the issue you know, I love the couples too.

Interviewer: Ok, Char do you like PJs or do you go commando?

Char: I go commando totally nude. I love it! I love the way the sheets feel on my body and have the air on my body as well. I have open access.

Interviewer: Ok, so what turns you on the most?

Char: Mmmm, again I like all different types of experiences. But to me incredibly important to have that connection with someone. That cerebral connection with the on the physical without that emotional connection it's just not as good. So, I like all different types of lovemaking. Some soft play, some rough play, as long as we are having fun. So now that you know a little about me guys and girls, you can go to the website and e-mail me directly I'm Char@SherisRanch.com. Let's talk!