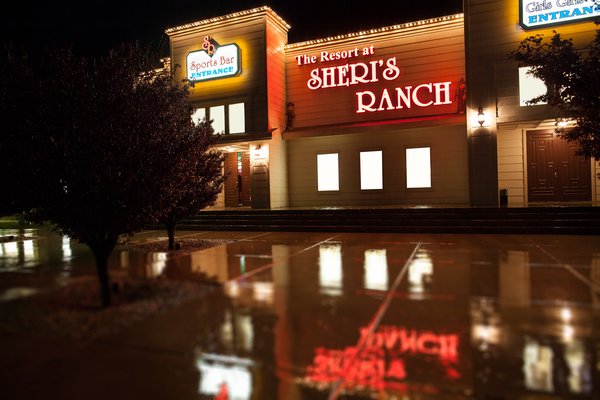 Brothels
Angel's Ladies Ranch
Cherry Patch Ranch 2
Cottontail Ranch
Shady Lady Ranch
Beatty is a 1600 person town located 130 miles from Las Vegas on Hwy 95. There are four small brothels in the area: Angel's Ladies, Cherry Patch 2, The Shady Lady, and the Cottontail.

Angel's Ladies is the largest of the three Beatty brothels. The house is on a 70 acre plot of land, 3 miles north of Beatty. It has eight ladies, but their brothel license only allows five ladies to be in the parlor at the same time. The parlor has reclining chairs and a sofa, which gives the house a friendly appearance and makes it look more like a living room than a brothel. The friendly atmosphere carries over to the attitudes of the ladies and management. Customers are often invited to stay and eat dinner after their party is over (and they are no longer spending money). Special facilities include a small airstrip and a 50 ft. outdoor pool. The owner was trying to sell the house for $1.75 million in late 2000 and the house may still be for sale. You can view pictures of the ladies and facilities on the Angel's Ladies web page. The brothel offers free showers and coffee to passing truckers and broadcasts on CB channel 19.

The Cherry Patch 2 is two miles east of the Hwy 95, Hwy 373 intersection. The brothel can be difficult to find because it has no street signs. The easiest way to locate the brothel is to look for Nevada Joe's. Nevada Joe's is a combination gas station, bar, restaurant, and general store that is next door to the brothel. Nevada Joe's and the Cherry Patch 2 are both owned by Joe Richards. The house does not have impressive facilities, and there have been rumors of harsh working conditions.