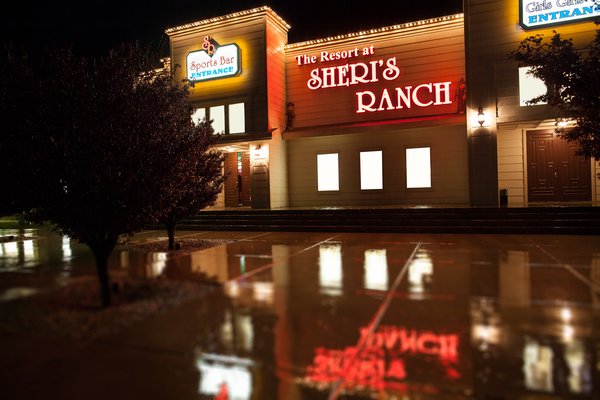 Brothels
Bunny Ranch
Billed as "world famous", no doubt due to it's owner's never-ending quest for publicity, the Moonlight Bunnyranch sits alone on the north side of U.S. 50 relative to the three other Moundhouse brothels. From the corner of Red Rock Road and U.S. 50, you proceed north-northeast two blocks (about 1200') before veering off to the northeast onto Moonlight Road (just to the right of the tower that looks like an oil drilling rig). Hof recently changed the MLBR's mailing address from 30 to 69 (for obvious reasons), since he owns all of the property along Moonlight, where there are many signs enticing you to proceed the additional 1300' or so up the slight incline to this establishment's parking lot, including the now-infamous "(Minnesota) Governor Jesse Ventura had sex here" placard. Just past the white gate, look to your left to see a new historical marker, commemorating the historic Pony Express, which had a stop here in Moundhouse.

Kit Kat Ranch
The brothel that gives its name to the street, the Kit Kat is found on the left (east) side as you drive the four blocks south from U.S. 50. It shares kind of a "cul-de-sac"-type parking area with its neighboring bordellos (none of which share any common ownership interests, however).

Miss Kitty's Pussycat Lounge
The "little sister" establishment to the better-known Moonlight Bunnyranch, Kitty's (also owned by Dennis Hof) is found at the southeast end of the Kit Kat Lane "LPIN cul-de-sac". Prior to 1998, this brothel was known as "Madam Kitty's Fantasy Ranch".

The Sagebrush Ranch and Squeeze Play Lounge
Marvin Gates' Sagebrush is a lavish new facility that replaced the old Sagebrush I, which burned down in 1999. It is located at the southwest end of the Kit Kat Lane "LPIN cul-de-sac", just past the attached Squeeze Play Lounge (the old Sagebrush II brothel, which was remodeled into a "strip club" once the "new" Sage opened in mid-2001).